Welcome
Welcome to the Lawtey Police Department's Official Web Site. This site introduces you to our department and provides an overview of our services as well as links to other agencies and organizations that you may find helpful.

The City of Lawtey, Florida is located in rural Northern Bradford County on U.S. Highway 301 approximately 45 miles Southwest of Jacksonville, FL. We take pride in offering quality and professional law enforcement services to our community while maintaining a small town approach. Our officers are pro-active and patrol all residential and business areas as well as respond to service calls and make reasonable efforts to keep traffic flowing slowly and safely through the city limits. Additionally, all City of Lawtey Police Officers are sworn Bradford County Deputy Sheriffs and through our mutual aid agreement assist with calls and provide backup as needed in the county area. Our agency also has personnel assigned to the Bradford Narcotics Task Force.

As Chief of Police, I am committed to keeping Lawtey one of the safest cities in the state. I am also dedicated to continuing the partnerships with our community leaders, churches and local law enforcement agencies, and to leading our department as we confront modern issues of technology, social media, illegal drugs and police/citizen relations. By working together we can succeed in our endeavors and keep Lawtey a great place to live and raise a family.

Thank you for visiting and please check back often.


Respectfully,

Shane Bennett
Chief of Police

Lawtey Police Department Term Report 2014-2018
The Lawtey Police Department Term Report for the years 2014 through 2018 is now available and it contains all of the awards, activities, accomplishments, and more over the last four years all summarized in an easy to read report.

Public Announcement
The City of Lawtey has adopted a Fair Housing Ordinance in accordance with Title VIII of the Civil Rights Act of 1968 which establishes that every person should be able to obtain the housing of their choice – or participate in a real estate transaction – without being discriminated against based upon race, color, national origin, religion, gender/sex, handicap/disability or familial status. Included in the link below is a dramatization which shows a possible discriminatory act: https://www.youtube.com/watch?v=MiH4QyJWobo

Reward for Missing Construction Equipment
Traveler's Insurance is offering a reward for the recovery and safe return of a missing 2006 Caterpillar 321-C-LCR Excavator. Click on the flyer below for more information. If you have any information regarding this incident or the location of the equipment, please contact the Lawtey Police Department immediately.

Back To School Safety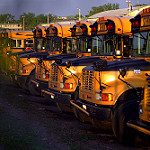 Michael Hicks/Flickr Creative Commons
School is back in session, which means increased traffic volume, school buses, and children walking to and from school. If you will be driving while school is in session, or have a child going to school, please be aware of the following back to school traffic safety tips: